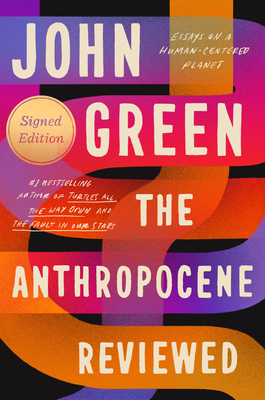 Online ONLY. Ticketed event: https://www.universe.com/events/the-anthropocene-reviewed-a-conversation-with-john-green-xxxxx-tickets-Q4N7GY?ref=GIBSONS
It's John Green! We are thrilled to partner with Brookline Booksmith (Brookline, MA) and Community Bookstore (Brooklyn, NY), in conjunction with The Wilbur (Boston, MA) to present this highly anticipated and deeply moving and insightful collection of personal essays from #1 bestselling author John Green. John will be appearing for this virtual event in conversation with author Clint Smith.
This is a ticketed event! Ticket sales are online only and are not available in the physical bookstore. Your ticket includes a signed hardcover copy of The Anthropocene Reviewed. A $1 donation to John and Hank's charity supporting improvement of access to maternal health care in Sierra Leone has been built into the ticket price. Choose your ticket based on whether you would like to pick your book up at Gibson's Bookstore in person, or would like it shipped to you. International shipping is available.
John and Clint will be pre-selecting most of their audience questions ahead of time.
Closed captions are being planned for this event.
Event date:
Monday, May 17, 2021 - 7:30pm