Wednesday, April 21st, 2021, 7pm EST. Online only, via Zoom. Registration required: https://www.eventbrite.com/e/148278177019
Did you miss this event? Watch our recording on Youtube: https://youtu.be/VDkBY-Z1zXg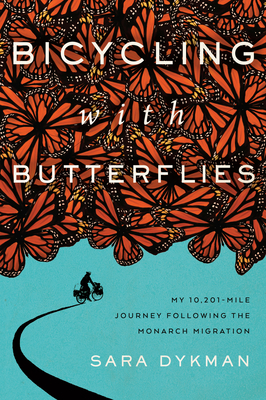 Gibson's Bookstore presents author Sara Dykman as she virtually presents her story of her 9-month, 10,000 mile journey, traveling by bicycle alongside thousands of monarch butterflies on their annual migration across the continent, in Bicycling with Butterflies: My 10,201-Mile Journey Following the Monarch Migration.
Outdoor educator and field researcher Sara Dykman made history when she became the first person to bicycle along­side monarch butterflies on their storied annual migration—a round-trip adventure that included three countries and more than 10,000 miles. Equally remarkable, she did it solo, on a bike cobbled together from used parts. Her panniers were recycled buckets.

In Bicycling with Butterflies, Dykman recounts her incredible journey and the dramatic ups and downs of the nearly nine-month odyssey. We're beside her as she nav­igates unmapped roads in foreign countries, checks roadside milkweed for monarch eggs, and shares her passion with eager schoolchil­dren, skeptical bar patrons, and unimpressed border officials. We also meet some of the ardent monarch stewards who supported her efforts, from citizen scientists and research­ers to farmers and high-rise city dwellers.

With both humor and humility, Dykman offers a compelling story, confirming the urgency of saving the threatened monarch migration—and the other threatened systems of nature that affect the survival of us all.
Event date:
Wednesday, April 21, 2021 - 7:00pm

$27.95
ISBN: 9781643260457
Availability: On Our Shelves Now
Published: Timber Press - April 13th, 2021
"A lament for our thoughtless destruction of nature and at the same time a celebration of the beauty that remains. The migration of the monarch butterflies is one of the wonders of the world—we must save it for future generations." —Dr. Jane Goodall, DBE, Founder of the Jane Goodall Institute and U.N.
---
Adorn your laptop, your waterbottle, your car, with this snazzy Gibson's vinyl sticker! Green print on a white background, 4"x6".

Produced locally, with Speedy Printing.
---
Show your Gibson's pride with this green and silvertone enamel pin!

Pin stays in place with a metal butterfly clutch back.

Pin measures 1" in width. Produced by a New Hampshire company, Crown Trophy in Hooksett!
---