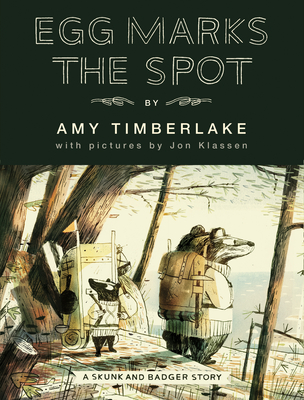 Tuesday, September 21st, 2021, 7pm EST. Online only, via Zoom Webinar. Registration required: https://www.eventbrite.com/e/166527928517
Newbery Honor winning author Amy Timberlake joins Gibson's Bookstore virtually to present her second Skunk and Badger book, Egg Marks the Spot! This delightful soft-heartedly whimsical book has been charming our booksellers and their children, and it will fill your heart and charm you too. Amy is joined in conversation by author Kate Hannigan (Cape, Mask, and Boots).
A signed bookplate is included with your purchase of Egg Marks the Spot from Gibson's Bookstore.
"X Marks the Spot!"
Buried in the heart of every animal is a secret treasure. For rock scientist Badger, it's the Spider Eye Agate he found as a cub, stolen years ago by his crafty cousin, Fisher. For Badger's roommate, Skunk, the treasure is Sundays with the New Yak Times Book Review. When an old acquaintance, Mr. G. Hedgehog, announces his plan to come for the Book Review as soon as it thumps on the doorstep, Skunk decides an adventure will solve Badger's problems as well as his own. Surprisingly, Badger agrees. Together they set off on an agate-finding expedition at Badger's favorite spot on Endless Lake.
But all is not as it seems at Campsite #5. Fisher appears unexpectedly. Then a chicken arrives who seems intent on staying. Something is up!
About the author: Amy Timberlake's novels for young readers have received a Newbery Honor, an Edgar Award, a Golden Kite Award, and the China Times Best Book Award. She grew up in Hudson, Wisconsin, but now calls Chicago home. She is a graduate of Mount Holyoke College, and holds an MA in English and Creative Writing from the University of Illinois. You can find her walking on Chicago's Lakefront Trail on cool, crisp fall days.
Kate Hannigan writes fiction and nonfiction for young readers. Her historical fantasy series CAPE, MASK, and BOOTS (Simon & Schuster/Aladdin) blends graphic-novel elements with traditional storytelling. CAPE, Book 1 in The League of Secret Heroes series, received the Oklahoma Book Award and was recently optioned for film. Kate's nonfiction graphic novel THE GREAT CHICAGO FIRE (First Second) was a 2021 Excellence in Graphic Literature Award Finalist. And her historical mystery THE DETECTIVE'S ASSISTANT won SCBWI's 2016 Golden Kite Award. Visit her online at KateHannigan.com
Sign up for the events-specific email newsletter from Gibson's Bookstore! Separate from our main store newsletter, this newsletter sends you notices when we book events, and what our upcoming events are! We promise not to sell your email address. https://signup.e2ma.net/signup/1947324/1359315/
Event date:
Tuesday, September 21, 2021 - 7:00pm