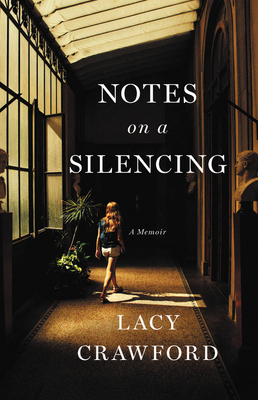 Tuesday, July 21st, 2020, 6pm EDT, online only via Zoom. This event is free to attend, but registration is required: https://www.eventbrite.com/e/lacy-crawford-author-of-notes-on-a-silencing-tickets-113690234552
The recording on this event is now available to watch on Gibson's Bookstore's Youtube channel: https://youtu.be/38xDIU_P1w0
Lacy Crawford visits Gibson's Bookstore virtually to discuss Notes on a Silencing: A Memoir, an exploration of her sexual assault decades ago during her time as a student at St Paul's School and the ensuing cover-up, and of the ways gender, privilege, and power shaped her experience as a girl at the gates of America's elite. She is joined in conversation by Kathy Giles, the fourteenth rector of St Paul's School (2019 - present), to discuss what it takes for communities to change. Their conversation will be moderated by Alyssa Dandrea, court journalist for the Concord Monitor newspaper.
A "powerful and scary and important and true" memoir (Sally Mann, Carnegie Medal-winning author of Hold Still) of a young woman's struggle to regain her sense of self after trauma, and the efforts by a powerful New England boarding school to silence her---at any cost.
When the elite St. Paul's School came under state investigation after extensive reports of sexual abuse on campus, Lacy Crawford thought she'd put behind her the assault she'd suffered decades before, when she was fifteen. Still, when detectives asked for victims to come forward, she sent a note.
With her criminal case file reopened, she saw for the first time evidence that corroborated her memories. Here were depictions of the naïve, hardworking girl she'd been, a chorister and debater, the daughter of a priest; of the two senior athletes who assaulted her and were allowed to graduate with awards; and of the faculty, doctors, and priests who had known about Crawford's assault and gone to great lengths to bury it.
Now a wife, mother, and writer living on the other side of the country, Crawford learned that police had uncovered astonishing proof of an institutional silencing years before, and that unnamed powers were still trying to block her case. The slander, innuendo, and lack of adult concern that Crawford had experienced as a student hadn't been the imagined effects of trauma, after all: these were the actions of a school that prized its reputation above anything, even a child.
This revelation launched Crawford on an extraordinary inquiry into the ways gender, privilege, and power shaped her experience as a girl at the gates of America's elite. Her investigation looks beyond the sprawling playing fields and soaring chapel towers of crucibles of power like St. Paul's, whose reckoning is still to come. And it runs deep into the channels of shame and guilt, witness and silencing, that dictate who can speak and who is heard in American society.
An insightful, mature, beautifully written memoir, Notes on a Silencing is an arresting coming-of-age story that wrestles with an essential question for our time: what telling of a survivor's story will finally force a remedy?
~*~*~
Lacy Crawford is the author of the novel Early Decision. She lives in Southern California with her family.
Kathleen "Kathy" Carroll Giles became the Fourteenth Rector of St. Paul's School on July 1, 2019. Most recently, she has served as head of school at Middlesex School since 2003. Before that, Kathy held a variety of roles at the Groton School, including dean of academic affairs, college advisor, English teacher, and coach.
Alyssa Dandrea is a journalist for the Concord Monitor, a daily newspaper based in New Hampshire's capital. In the months leading up to the #MeToo movement, Alyssa wrote an award-winning five-part series titled "Unsilenced" that features St. Paul's School sexual assault survivor Chessy Prout and other women who shed their anonymity to reclaim their voices and push for change. Alyssa has done extensive reporting on the history of sexual abuse at St. Paul's and the resulting civil and criminal litigation. Her most recent work includes a year-long project on domestic violence in New Hampshire.
Event date:
Tuesday, July 21, 2020 - 6:00pm

$28.00
ISBN: 9780316491556
Availability: On Our Shelves Now
Published: Little, Brown and Company - July 7th, 2020
A "powerful and scary and important and true" memoir of a young woman's struggle to regain her sense of self after trauma, and the efforts by a powerful New England boarding school to silence her—at any cost (Sally Mann, author of Hold Still).

When Notes on a Silencing hit bookstores in the summer of 2020, even amidst a global pandemic, it sent shock
---